It Lives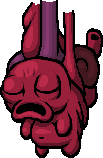 Found In
The Womb and Utero
Dropped Items
Final Boss Chest

Unlocked By
Defeat Mom's Heart eleven times to permanently replace it with this
Template:Stub It Lives is the true final boss of The Womb/Utero, unlocked by defeating Mom's Heart eleven times. After being unlocked, it will always appear as the boss of The Womb 2 and Utero 2, permanently replacing Mom's Heart. It is a stronger version of Mom's Heart that summons bosses alongside regular Womb/Utero enemies. Killing It Lives will open up entrances to both Sheol and the Cathedral.
It Lives behaves exactly like Mom's Heart, with the addition of being able to summon Bosses like Teratoma, Polycephalus, and Duke of Flies.
The music that plays during this fight is titled Ventricide [1]. Ventricide is a made-up word formed from the word ventricle (organ) and the suffix -cide, which denotes an act of killing. This theme is used in other tracks, such as Matricide, Hericide, and Infanticide.

This has been confirmed by Edmund when he said it means something such as "the killing of the heart".

This boss is confirmed by Edmund McMillen to be Isaac in his mother's womb, so killing it is technically a paradox since he would be killing himself.
Community content is available under
CC-BY-SA
unless otherwise noted.