Mom's Heart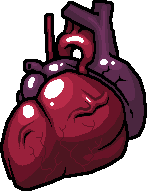 Found In
The Womb or Utero
Dropped Items
Final Boss Chest

Unlocked By
Defeating Mom

Mom's Heart is the final boss in The Womb II or Utero II. Until It Lives is unlocked, Mom's Heart cannot be continued past unless a Devil Room or an Angel Room appears, which allow you to go to Sheol or The Cathedral, respectively. After being killed 11 times, Mom's Heart will be permanently replaced by It Lives.
Mom's Heart acts very differently from the original Binding of Isaac.
It has many different types of attacks, seeming to vary depending on the amount of remaining health. Many of the attacks are varying flurries of orbs that scatter across the room, which can be difficult to dodge. These orbs range from several orbs released in every direction while slowly rotating, to a fast moving line of projectiles released in four directions rotating moderately fast.
Mom's Heart also has an attack that shoots blood tears rapidly when she's ~40% lower on HP. Mom's Heart will also occasionally retreat upwards and launch blood shots diagonally forward in a spread, at which point it cannot be harmed and it will spawn various enemies, including but not limited to Globin, Suckers and Walking Red Hosts. It should be noted all of her attacks hurt her own minions.
After losing a significant amount of health, Mom's Heart will stop spawning enemies and will begin to shoot four rotating blood lasers. At the very top of the boss room is a small area where walking into it counts as though Isaac walked into the heart.
There are no champion versions of Mom's heart, but after defeating it for the 11th time, Mom's heart will be replaced by It Lives.
The music that plays during this fight is titled Ventricide [1]. Ventricide is a made-up word formed from the word ventricle (organ) and the suffix -cide, which denotes an act of killing. This theme is used in other tracks, such as Matricide, Hericide, and Infanticide.

This has been confirmed by Edmund when he said it means something such as "the killing of the heart".
Community content is available under
CC-BY-SA
unless otherwise noted.