Polycephalus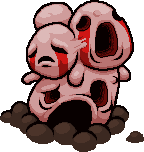 Found In
Catacombs (can also be Double Trouble)

Double Trouble in: Necropolis Depths Womb
Dropped Items
Boss Pool

Polycephalus is a boss that can appear in the Catacombs. It is a mass of underdeveloped heads sprouting from a giant half buried one.
Polycephalus's attacks consist of burrowing underground and then attacking Isaac in a variety of ways.
It may spray out a barrage of tears towards the player.
It may fire a spread-shot of three tears at the player.
It may summon a round worm.
It may shoot out eight tears around him.
Polycephaly is the condition of having more than one head.
On Catacombs XL, it is possible to fight Polycephalus in both boss fights.
Community content is available under
CC-BY-SA
unless otherwise noted.