The Wretched is a posthumous version of Widow.
The Wretched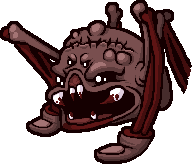 Found In
Catacombs
Dropped Items
Boss Pool
Unlocked By
Unlock Catacombs
The Wretched's behavior is similar to Widow's, jumping at the player and producing white creep. However, the creep is much larger, taking a 4th of a normal sized room.
Rather than spawning sacks, the Wretched spawns 2 spiders, a big spider, or a trite.
Shoots white bullets in 8 directions.
Community content is available under
CC-BY-SA
unless otherwise noted.